Now on Internet!!!
Nykoebing Katedralskole DOOM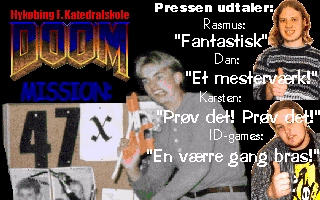 Welcome to Nykoebing F. Katedralskole DOOM, Mission 47 x.
This is the official Web-site for this fantastic DOOM-game, which is no more than brilliant. It is a DOOM-level (in fact five DOOM-levels), which takes place on Nykoebing Katedralskole in Denmark, and it is all about walking around and shooting the teachers.
Now you shouldn't just sit and think that it is just a couple of lunatics, madmen or DOOM-freaks, who have made these levels. We don't want to be called DOOM-freaks. We have only made these levels, because we thought that it could be fun to see, if it was possible. In fact it is also because we missed an art-project for the school.
We have tried to make the school as realistic as possible, and we have for this purpose changed both sounds, graphics and levels. We think that it has become damn good, and so we hope you gamers do. Thus we also believe so.
Now at last there is only one thing left to do: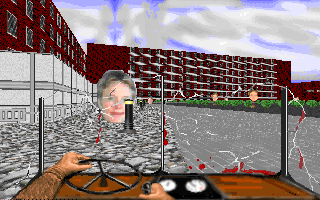 Try it! Try it!

By the way we require you to pay the symbolic and fantastic low price of

0$
Upon this cost also comes tax and other costs by downloading the game.


So if you are not afraid of principal or the police then download the levels in a hurry.

Many of the files you can download, include the game, are in zip-format. So if you don't have a program, who can unpacke zip-files, you can download unzip, by clicking on the ,line down under.